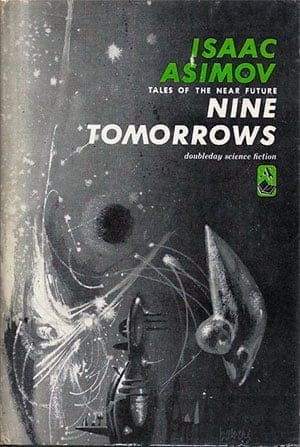 Bibliographic data
Author: Isaac Asimov
Title: Nine Tomorrows. Tales of the near future
Date: 1959
Publisher: Doubleday
Country: United States
Genre: Short stories
Synopsis:
Nine Tomorrows: Tales of the Near Future is a collection of science fiction tales penned by the master of the genre, Isaac Asimov, and published in 1959. This anthology brings together nine pieces that, as the title suggests, delve into visions of the near future, tackling themes ranging from technology and robotics to ethical and social issues arising from scientific advancements.
Asimov, with his distinctively lucid and incisive style, not only presents futuristic scenarios but also poses profound questions about human nature, morality, and the fate of our species in a world increasingly dominated by technology. The stories in this collection serve both as a reflection on human potential and a warning about the dangers of unchecked progress.
Each tale in Nine Tomorrows is a gem in its own right, showcasing Asimov's ability to meld rigorous science with captivating narratives. Through these pages, readers are transported to realms where artificial intelligence, genetics, and other scientific fields challenge our conventional notions of humanity and ethics.
"Nine Tomorrows: Tales of the Near Future" stands as a testament to Asimov's literary genius and his prowess in deeply and provocatively exploring the future. It is a must-read for any science fiction enthusiast, especially those keen on visions of the future that emerged during the mid-20th century.
Content:
The Feeling of Power
Profession
All the Troubles of the World
The Dying Night
The Gentle Vultures
I'm in Marsport Without Hilda
Spell My Name with an S
I Just Make Them Up, See!
Rejection Slips